Rep. Alexandria Ocasio-Cortez left behind Covid lockdowns in her poverty and disease ravaged district in Queens, but she knows a good party spot when she sees it: Sunny mandate-free Florida.
The maskless diva partied the night away at a drag queen event in Miami on Sunday. She hugged and was kissed by Broadway actor Billy Porter, who by her own accounts is not her boyfriend. (That would be the pasty guy with the bad feet she was caught brunching with in Miami initially.)
Here she is with Porter at a "drag brunch" in some pics posted on Instagram:
The social media reaction to the images of the Woke icon sums it all up.
"AOC is STILL lounging it up in Florida, in large crowds and maskless. This time at a Drag Queen bar in Miami. Rules for thee but not for me," wrote journalist Brendon Leslie.
"For those of you with zero sense of humor: the whole point of this post is to expose hypocrisy," he added. "We don't actually care she's maskless. We care she fear mongers about Florida but then has the audacity to vacation here."
"AOC was spotted partying in a bar maskless in the great free state of Florida. Absolute hypocrite," added Twitter account Libs of Tik Tok.
But the greatest response was assuredly from Florida's governor Ron DeSantis.
"If I had a dollar for every lockdown politician who decided to escape to Florida over the last two years, I'd be a pretty dog-gone wealthy man, let me tell ya," DeSantis said at a press conference.
"I mean, Congress people, mayors, governors, I mean, you name it. It's interesting though, the reception that some of these folks will get in Florida," he continued. "Because I think a lot of Floridians will say 'Wait a minute, you're bashing us because we're not doing your draconian policies, and yet we're the first place you want to flee to to basically to be able to enjoy life. And so I'm not surprised to see that continue to happen."
"Without naming names," DeSantis said, "I could tell you, I mean, there probably be about half a dozen governors who had restrictions on their people and then were spotted at various points in Florida. Some of it's been public. Some of it's not been public."
Watch below:
While AOC's home state of New York continues authoritarian and futile policies to fight Covid-19, mandate-free Florida is already well on the way to recovery, thanks in large part to natural immunity fueled herd immunity.
People aren't failing to notice the contrast between New York and Florida's Covid policies:
Very simple question, for those holding the "Apocalypse" position on COVID: why isn't everyone in Florida or Sweden dead?

— Wilfred Reilly (@wil_da_beast630) January 3, 2022
It's hilarious watching liberals attack Ron DeSantis when he's led his state better than every pathetic Democrat governor in the country

— Christian Walker (@ChristianWalk1r) January 3, 2022
There is no Omicron hospital "surge" in Florida

People admitted for non-Covid reasons get tested

If they test positive they get counted as a "COVID patient"

The majority of the 5,400 "Covid patients"in #Florida are in the hospital for non-Covid reasons

— Marco Rubio (@marcorubio) January 3, 2022
Ron DeSantis, at a press conference this morning: "The vaccinations are not preventing infection."

— alexander nazaryan (@alexnazaryan) January 3, 2022
DeSantis's spokesperson Christina Pushaw commented on the difference between the states on Twitter.
"Cases per 100k for last 7 days (source: CDC). Florida: 1,186.4, New York City: 2,485.7," she wrote. "Florida has no mandates. NYC has the strictest mandates in the country."
"Journalists & experts — what's going on?" she asked. "For those who insist 'NYC has more cases because they test more': Test positivity is also reported on the CDC website. Past 7 days positivity is 15-19.9% in NYC // 20-24% in Florida. This doesn't explain the massive disparity in case rates. For those who spread misinformation about hospitalization rates, check the HHS Gov portal."
"Here's the data today: NYC currently has twice the % of inpatient beds used for COVID, and almost triple the % ICU beds being used for COVID, compared to Florida," she added.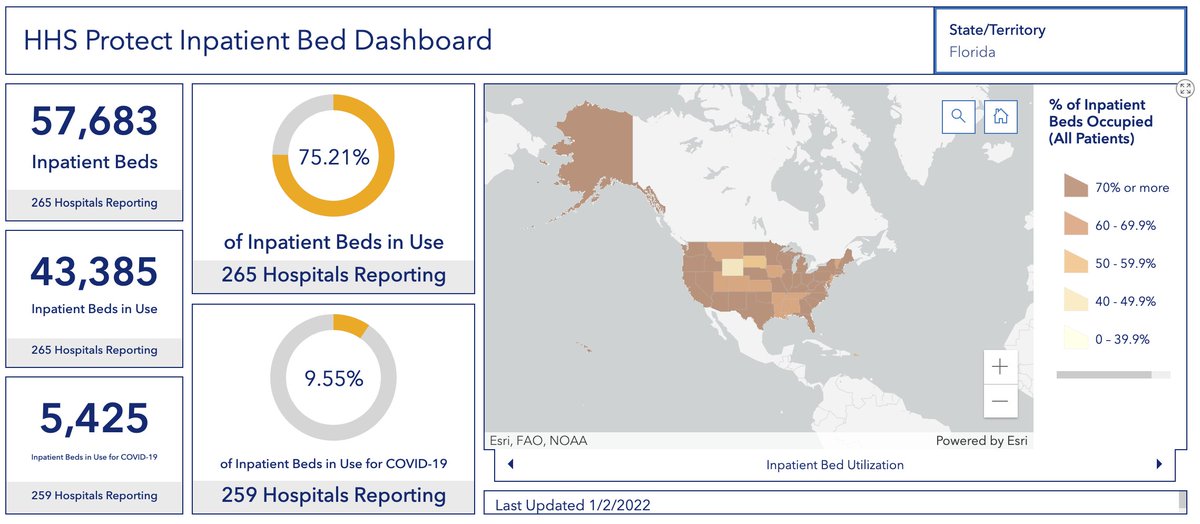 No wonder AOC wants to party it up in Florida. Maybe she should consider bringing the party back to New York and lifting the pointless Covid mandates? No, that would require integrity and intellectual consistency, two things the Democrats are utterly incapable of showing.
NOW READ:
New Mayor's 'Next Step' for Vaccine Mandates Should Scare the Hell Out of Anyone Still Living in New York City
"*" indicates required fields
---
OPINION: This article contains commentary which reflects the author's opinion.
---