Rep. Lauren Boebert, Republican from Colorado, has confirmed that the FBI informant document recently shown to members of the House Oversight Committee pertains to an alleged $5 million bribery payment paid to Joe Biden, the current President of the United States, and not his son Hunter Biden.
Boebert appeared on "The Benny Show" with host Benny Johnson and revealed what she saw in the redacted FD-1023 record that has been the basis of an ongoing dispute between the FBI and House investigators.
Congresswoman @LaurenBoebert after reading FD-1023 form involving Biden Family corruption:

"There was a $5 million payment made to Joe Biden. Not Hunter Biden. Joe Biden— 'The Big Guy.'"

SUBSCRIBE to The Benny Show: https://t.co/nyq1HbI8gn pic.twitter.com/rSZcHDbnke

— Benny Johnson (@bennyjohnson) June 8, 2023
Johnson confirmed with Boebert that she saw it in a secure facility and the document is not yet public, but pressed her for details on the document's contents.
"So there are some details you know, just dates, times, locations that, that we cannot express right now for the safety of the source," Boebert said. "And so what I can say is this is: This has been going on for many years and there was a 5 million dollar payment made to Joe Biden. Not Hunter Biden, Joe Biden, 'The Big Guy'."
"And this is, you know, we've… it's been said that we're going after his son that he has nothing to do with this office, but it's clearly laid out that they used Hunter Biden because he was stupid and that he could go through his dad for protection and that it would all just go away anyway."
"Wow," Johnson said. "And so this does have to do with the natural gas in Ukraine. This does have to do with the development of national gas sources."
"And Burisma and Hunter Biden being appointed to the board where it is," she replied. "It is noted that he had no experience, that the Biden family business has no experience in these oil and gas companies in these businesses. Yet he was appointed to the board. They know he is not smart, they know he's stupid. And the payments were made for bribery. Shokin is certainly mentioned in these documents. And all of this really surrounds around that public statement made by Joe Biden threatening Viktor Shokin. And we're seeing that there were forced payments made."
In 2006, Joe Biden boasted at a Council of Foreign Relations meeting about getting Viktor Shokin, former Ukrainian Prosecutor General, fired. Shokin was investigating Burisma, the natural gas company that put Hunter Biden on its board.
The Biden administration and its advisers have claimed that they wanted the Ukrainian prosecutor general fired because of his lackluster anti-corruption efforts. But this FBI informant document suggests the opposite case. It potentially adds substance to the counter-argument that former President Donald Trump's attempt to find valid evidence of Biden corruption was justified, albeit it led to his impeachment by the Democrat-led House of Representatives.
On Thursday, Hans Mahncke remarked on the developments, as well as Rep. Marjorie Taylor Greene's (R-GA) reaction to the FBI informant document.
"So it was Burisma all along and we don't have to take MTG's word for it," he said. "We have the evidence."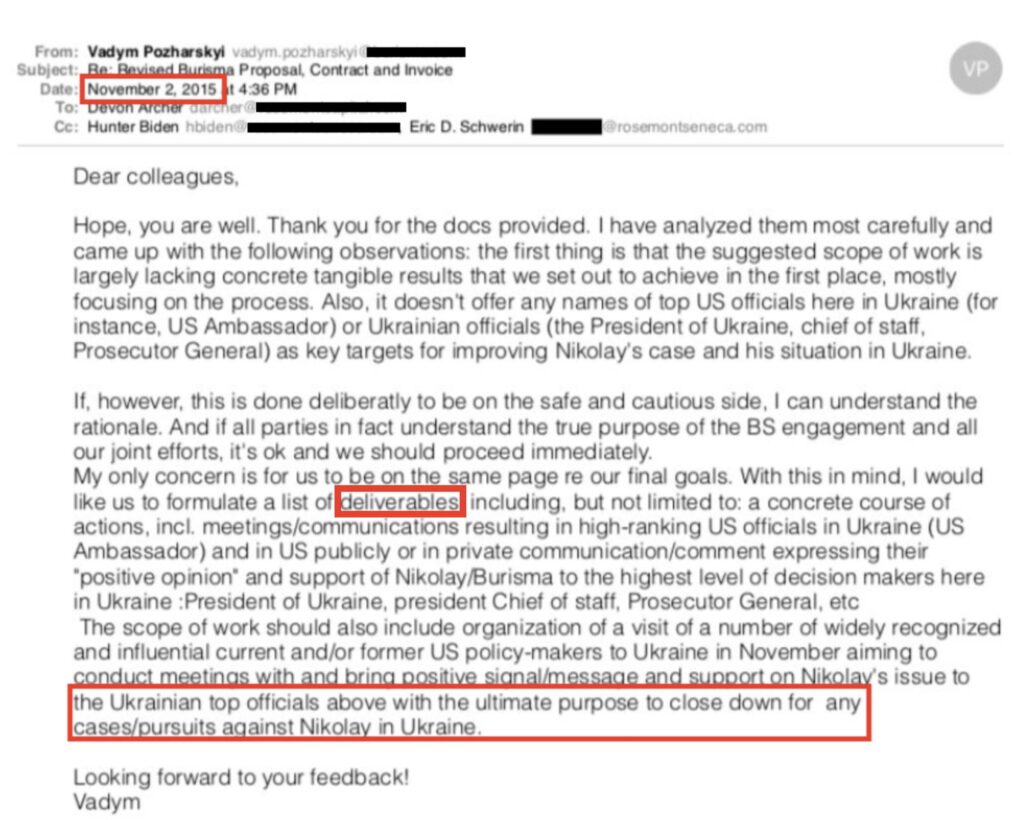 "On Nov 2, 2015, the director of Burisma's board wrote Hunter demanding 'deliverables', specifically to get 'high-ranking US officials' to 'close down' the cases against Burisma."
Rep. Greene had weighed in on the "definitely illegal" scheme earlier on Thursday.
I just read the FBI's FD-1023 form implicating Joe Biden in a political bribery pay-to-play scheme.

Here's what the American people deserve to know. pic.twitter.com/b3X8qh9MPf

— Rep. Marjorie Taylor Greene🇺🇸 (@RepMTG) June 8, 2023
House Oversight Committee Chairman James Comer (R-KY) appeared on Fox News on Wednesday and remarked about the FBI's surprising about-face on the informant document.
"After weeks of refusing to even admit the FD-1023 record exists, the FBI has caved and is now allowing all members of the Oversight and Accountability Committee to review this unclassified record that memorializes a confidential human source's conversations with a foreign national who claimed to have bribed then-Vice President Joe Biden," Comer said in a statement following the decision," Comer said.
"Americans have lost trust in the FBI's ability to enforce the law impartially and demand answers, transparency, and accountability. Allowing all Oversight Committee members to review this record is an important step toward conducting oversight of the FBI and holding it accountable to the American people," Comer added.