The fourth installment of the "Twitter Files" was released on Saturday revealing more insights into the internal decision-making and external pressures that drove Twitter to ban former President Donald Trump in the aftermath of the contested 2020 election.
Michael Shellenberger, an author and journalist, released the following information on Twitter. It also sheds lights on the former Head of Trust & Safety, Yoel Roth, whose partisan bias played a role in Twitter's decision to ban Trump.
TWITTER FILES, PART 4
The Removal of Donald Trump: January 7
As the pressure builds, Twitter executives build the case for a permanent ban
On Jan 7, senior Twitter execs:
– create justifications to ban Trump
– seek a change of policy for Trump alone, distinct from other political leaders
– express no concern for the free speech or democracy implications of a ban
This #TwitterFiles is reported with @lwoodhouse
For those catching up, please see:
Part 1, where @mtaibbi documents how senior Twitter executives violated their own policies to prevent the spread of accurate information about Hunter Biden's laptop;
Part 2, where @bariweiss shows how senior Twitter execs created secret blacklists to "de-amplify" disfavored Twitter users, not just specific tweets;
And Part 3, where @mtaibbi documents how senior Twitter execs censored tweets by Trump in the run-up to the Nov 2020 election while regularly engaging with representatives of U.S. government law enforcement agencies.
For years, Twitter had resisted calls to ban Trump.
"Blocking a world leader from Twitter," it wrote in 2018, "would hide important info… [and] hamper necessary discussion around their words and actions."
But after the events of Jan 6, the internal and external pressure on Twitter CEO @jack grows.
Former First Lady @michelleobama , tech journalist @karaswisher , @ADL , high-tech VC @ChrisSacca , and many others, publicly call on Twitter to permanently ban Trump.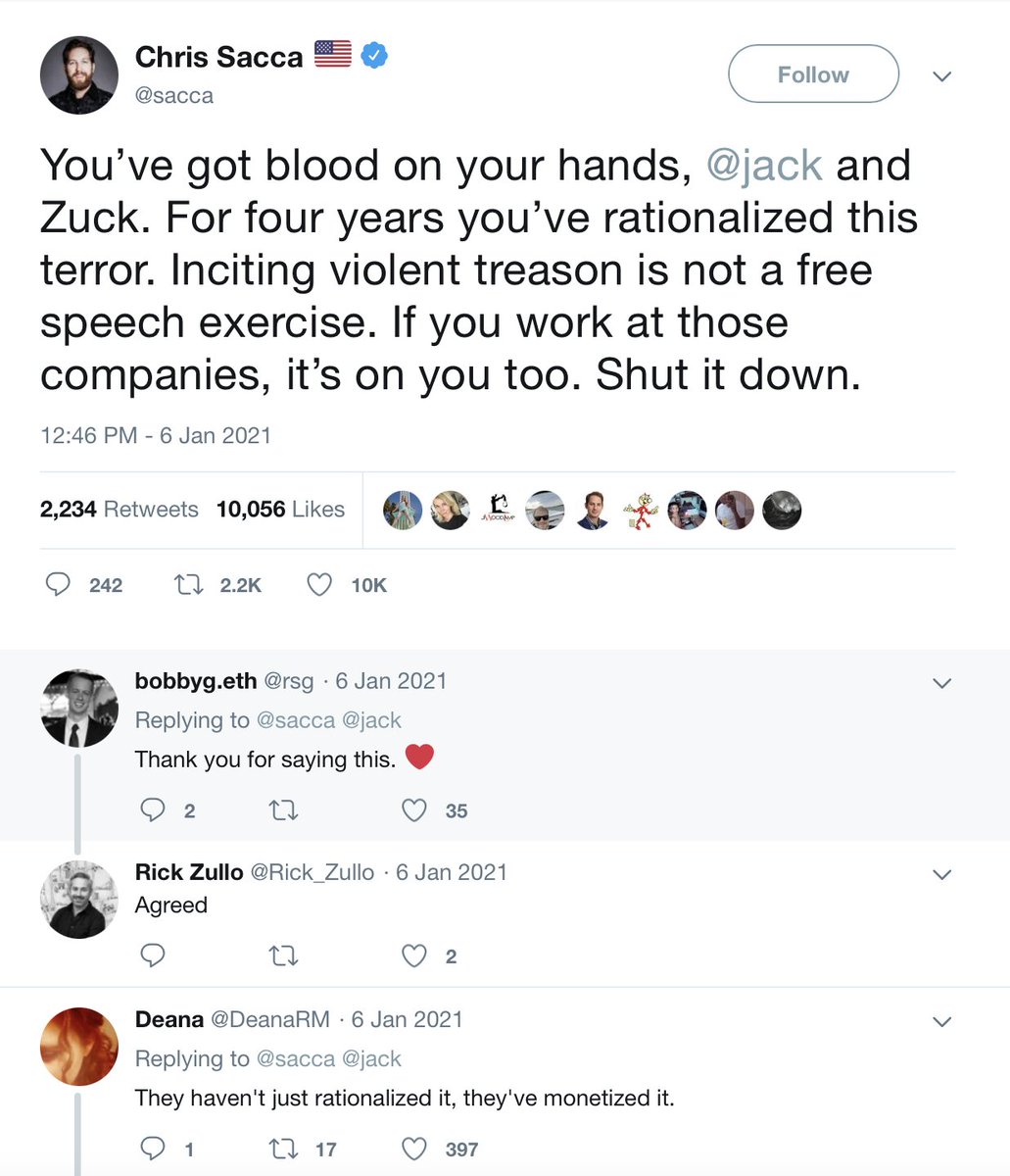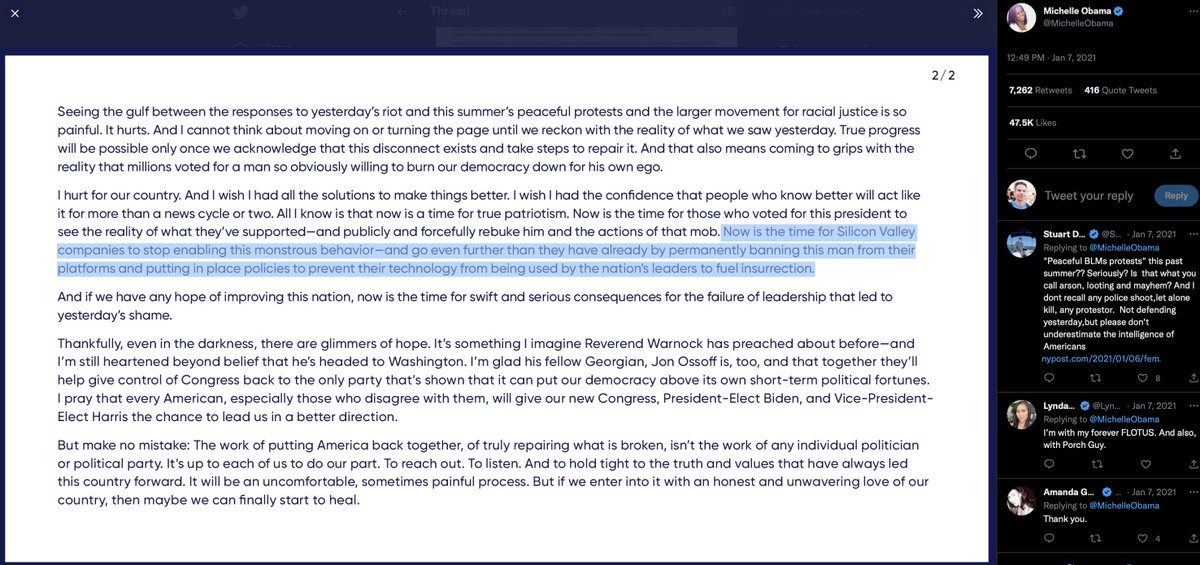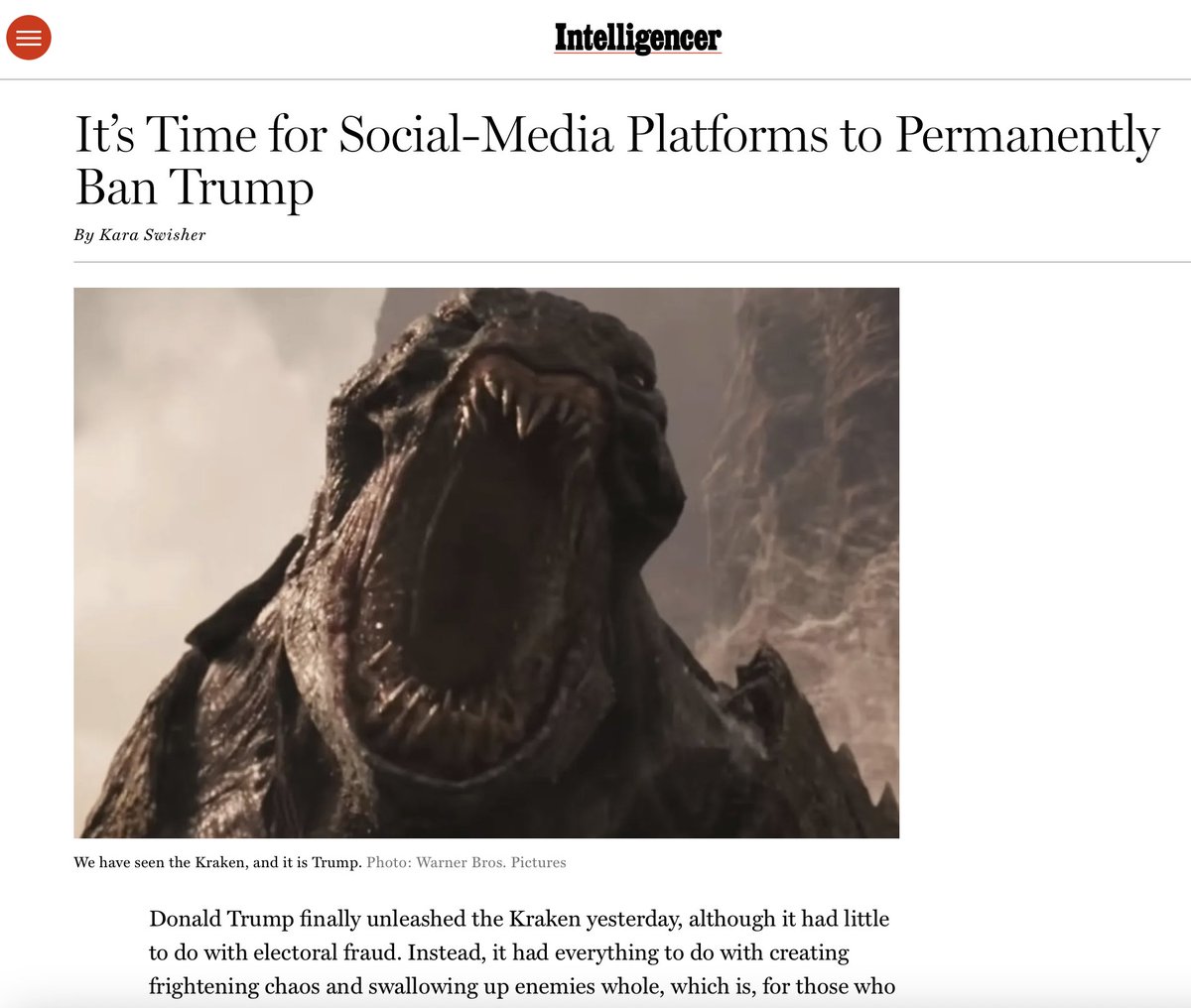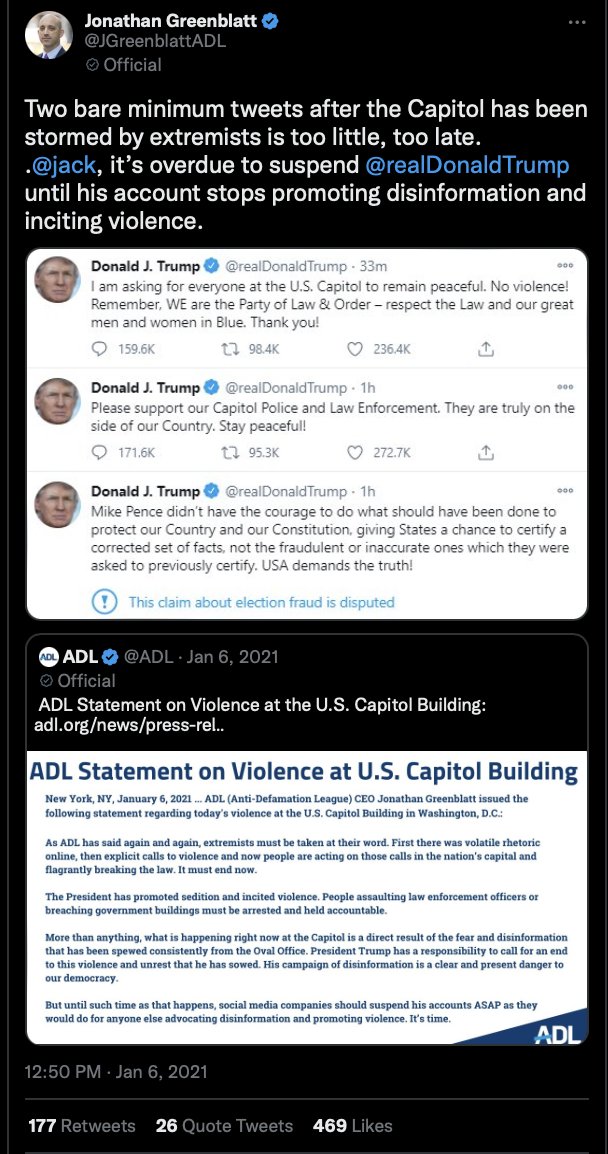 Dorsey was on vacation in French Polynesia the week of January 4-8, 2021. He phoned into meetings but also delegated much of the handling of the situation to senior execs @yoyoel , Twitter's Global Head of Trust and Safety, and @vijaya Head of Legal, Policy, & Trust. As context, it's important to understand that Twitter's staff & senior execs were overwhelmingly progressive.
In 2018, 2020, and 2022, 96%, 98%, & 99% of Twitter staff's political donations went to Democrats.
In 2017, Roth tweeted that there were "ACTUAL NAZIS IN THE WHITE HOUSE."
In April 2022, Roth told a colleague that his goal "is to drive change in the world," which is why he decided not to become an academic.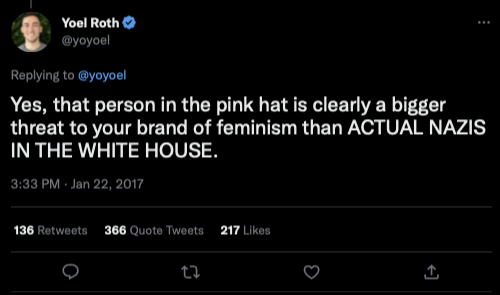 On January 7, @Jack emails employees saying Twitter needs to remain consistent in its policies, including the right of users to return to Twitter after a temporary suspension
After, Roth reassures an employee that "people who care about this… aren't happy with where we are"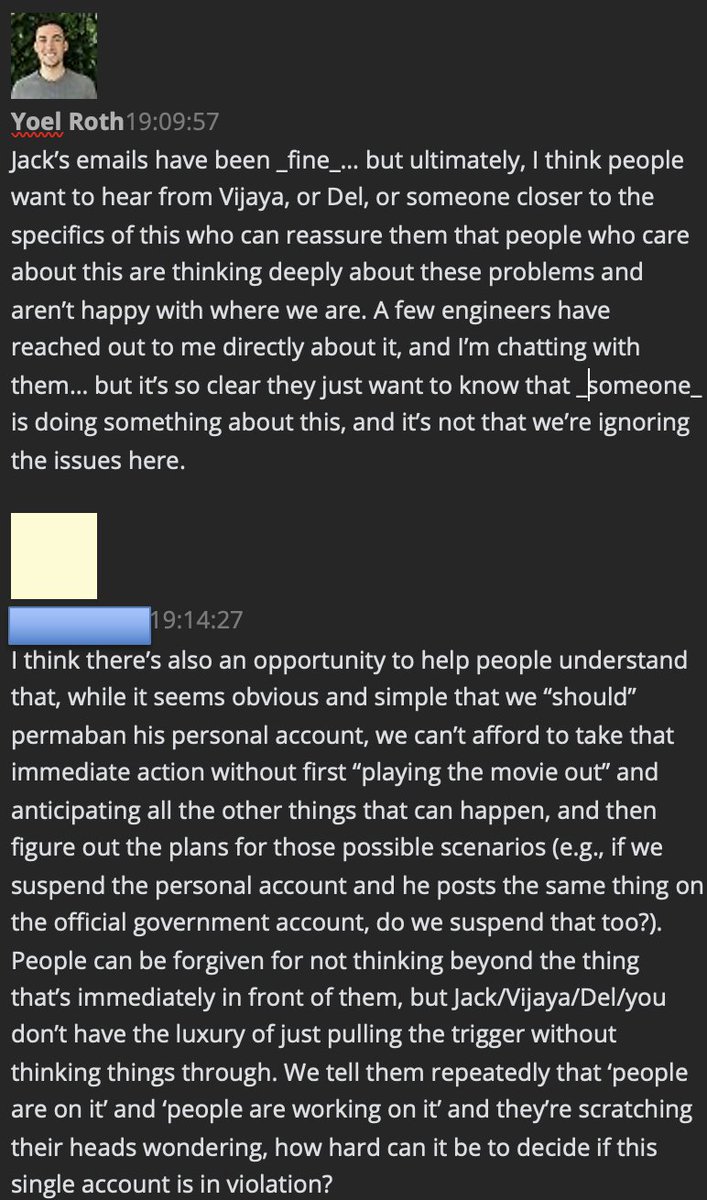 Around 11:30 am PT, Roth DMs his colleagues with news that he is excited to share.
"GUESS WHAT," he writes. "Jack just approved repeat offender for civic integrity."
The new approach would create a system where five violations ("strikes") would result in permanent suspension.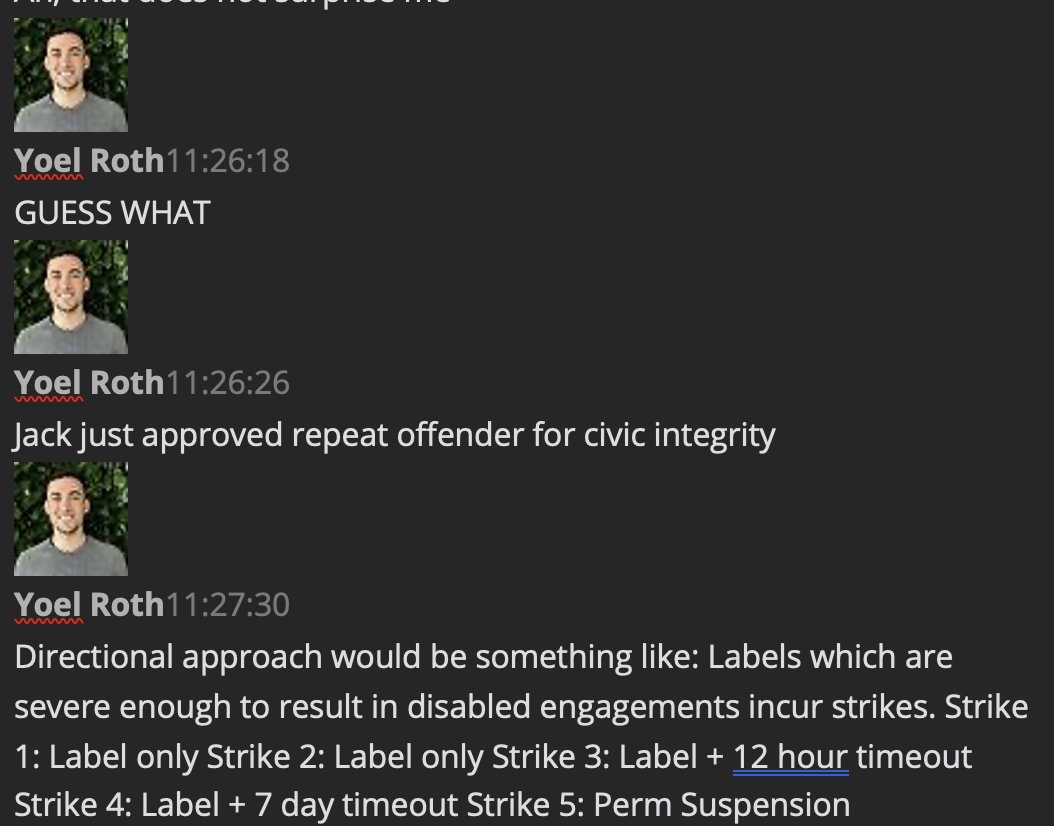 "Progress!" exclaims a member of Roth's Trust and Safety Team.
The exchange between Roth and his colleagues makes clear that they had been pushing @jack for greater restrictions on the speech Twitter allows around elections. The colleague wants to know if the decision means Trump can finally be banned. The person asks, "does the incitement to violence aspect change that calculus?"
Roth says it doesn't. "Trump continues to just have his one strike" (remaining).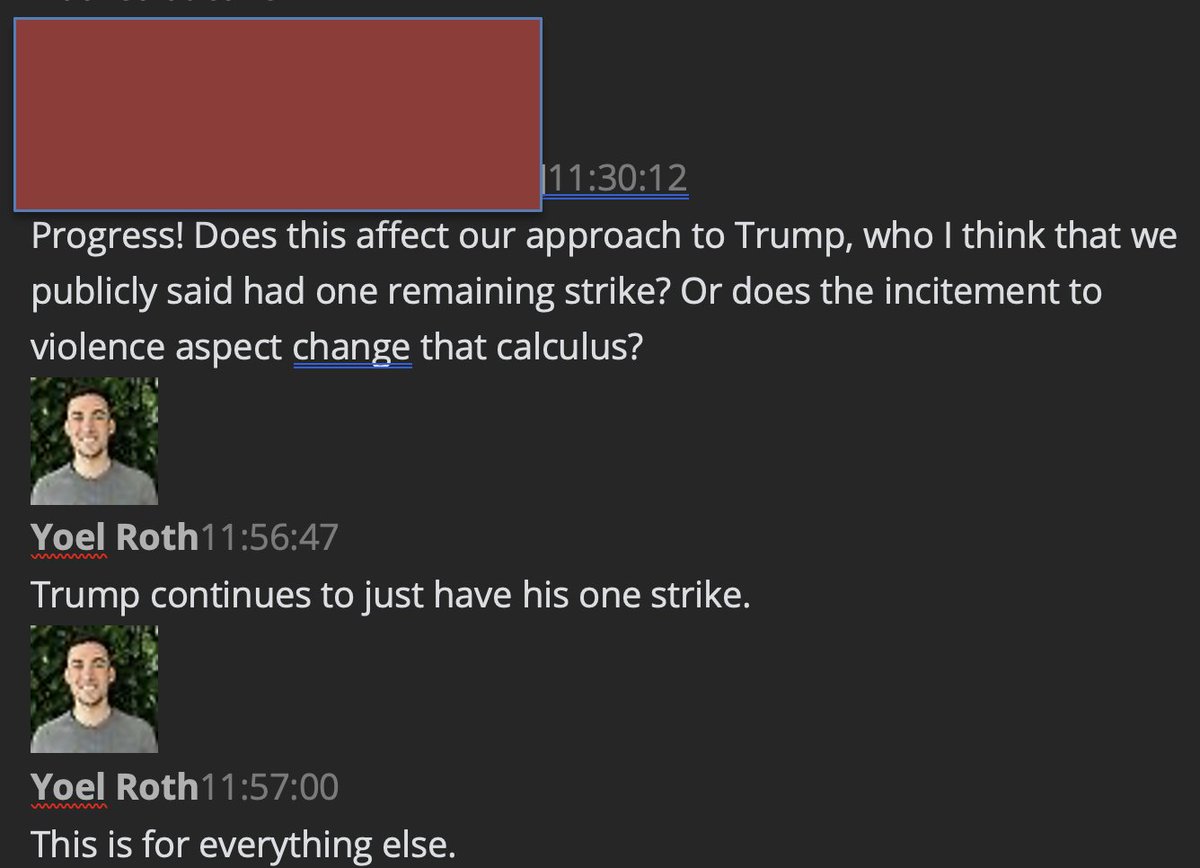 Roth's colleague's query about "incitement to violence" heavily foreshadows what will happen the following day.
On January 8, Twitter announces a permanent ban on Trump due to the "risk of further incitement of violence."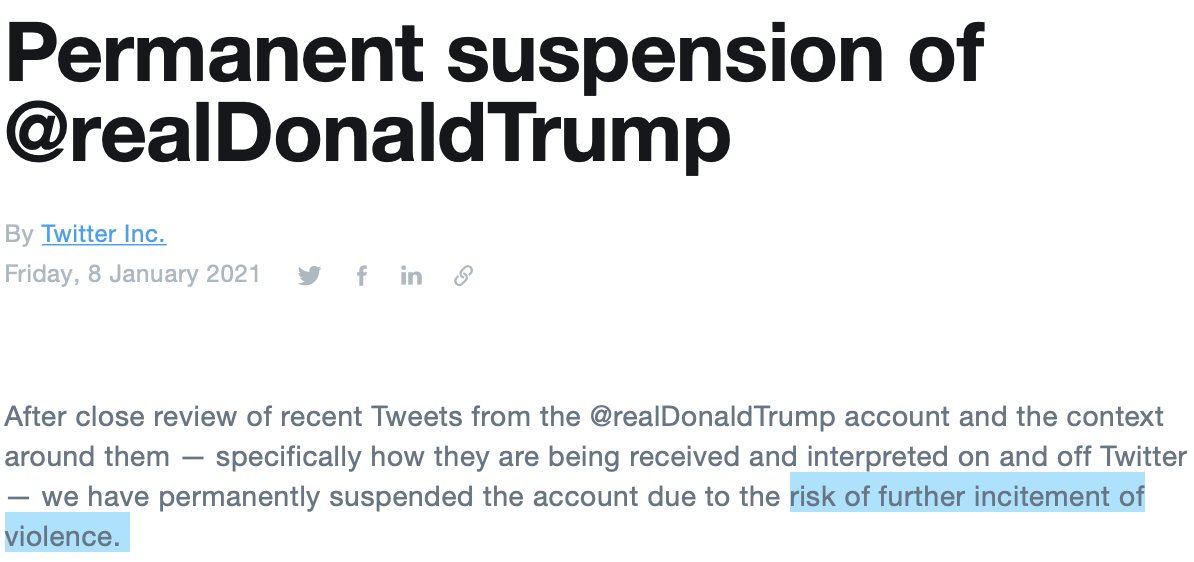 On J8, Twitter says its ban is based on "specifically how [Trump's tweets] are being received & interpreted."
But in 2019, Twitter said it did "not attempt to determine all potential interpretations of the content or its intent." (blog.twitter.com/en_us/topics/c…)


The only serious concern we found expressed within Twitter over the implications for free speech and democracy of banning Trump came from a junior person in the organization. It was tucked away in a lower-level Slack channel known as "site-integrity-auto."

"This might be an unpopular opinion but one off ad hoc decisions like this that don't appear rooted in policy are imho a slippery slope… This now appears to be a fiat by an online platform CEO with a global presence that can gatekeep speech for the entire world…"

Twitter employees use the term "one off" frequently in their Slack discussions. Its frequent use reveals significant employee discretion over when and whether to apply warning labels on tweets and "strikes" on users. Here are typical examples.


Recall from #TwitterFiles2 by @bariweiss that, according to Twitter staff, "We control visibility quite a bit. And we control the amplification of your content quite a bit. And normal people do not know how much we do."
Twitter employees recognize the difference between their own politics & Twitter's Terms of Service (TOS), but they also engage in complex interpretations of content in order to stamp out prohibited tweets, as a series of exchanges over the "#stopthesteal" hashtag reveal.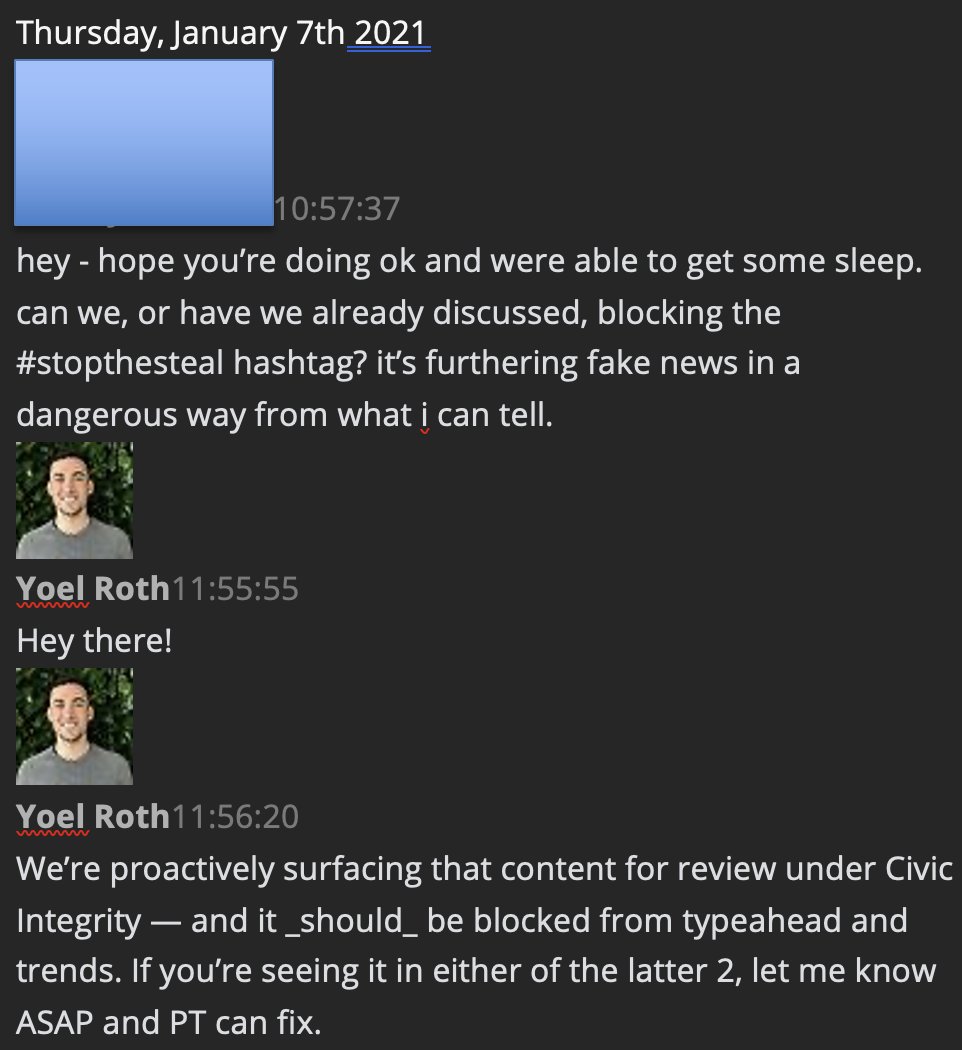 Roth immediately DMs a colleague to ask that they add "stopthesteal" & [QAnon conspiracy term] "kraken" to a blacklist of terms to be deamplified.
Roth's colleague objects that blacklisting "stopthesteal" risks "deamplifying counterspeech" that validates the election.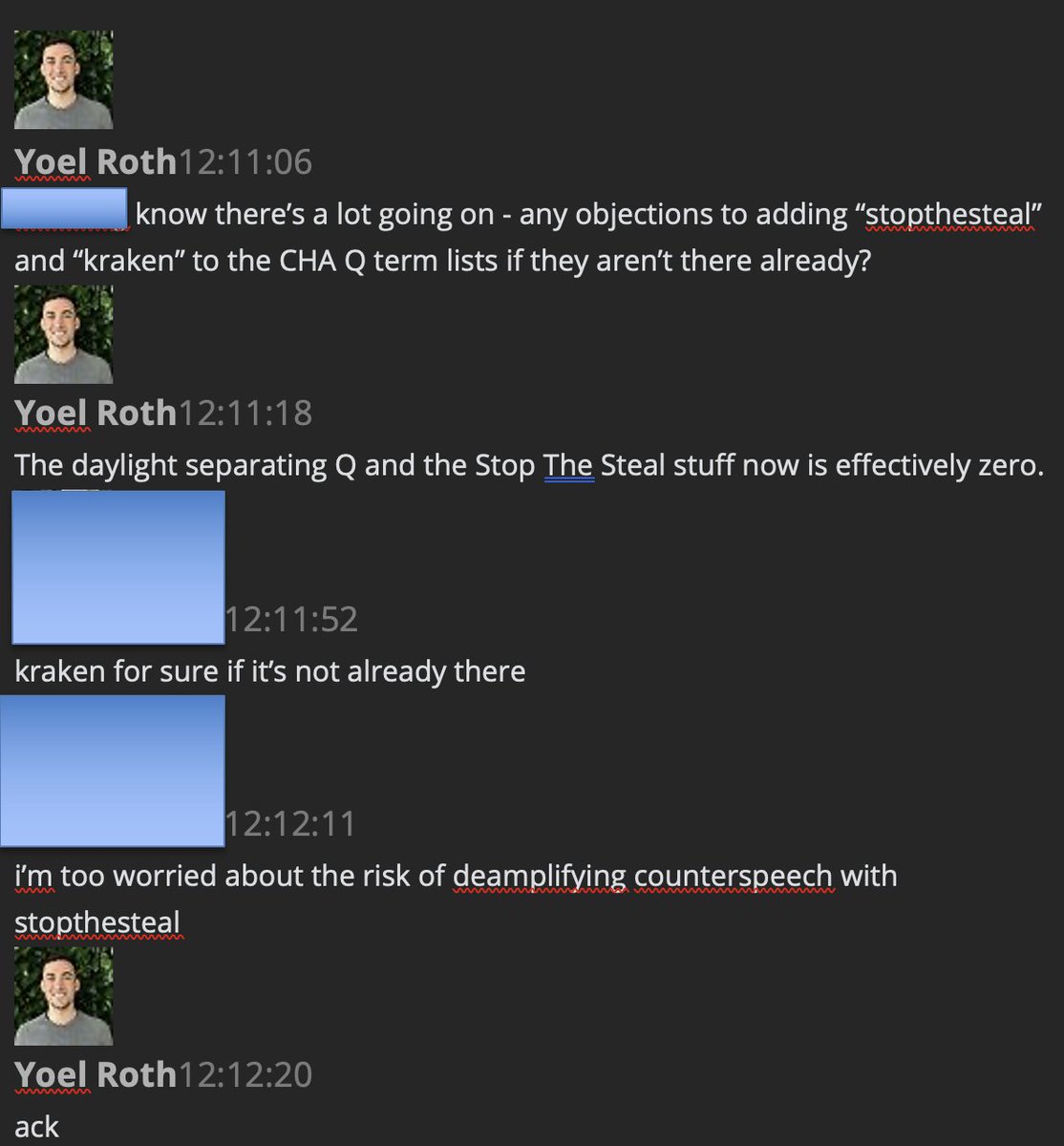 Indeed, notes Roth's colleague, "a quick search of top stop the steal tweets and they're counterspeech"
But they quickly come up with a solution: "deamplify accounts with stopthesteal in the name/profile" since "those are not affiliated with counterspeech"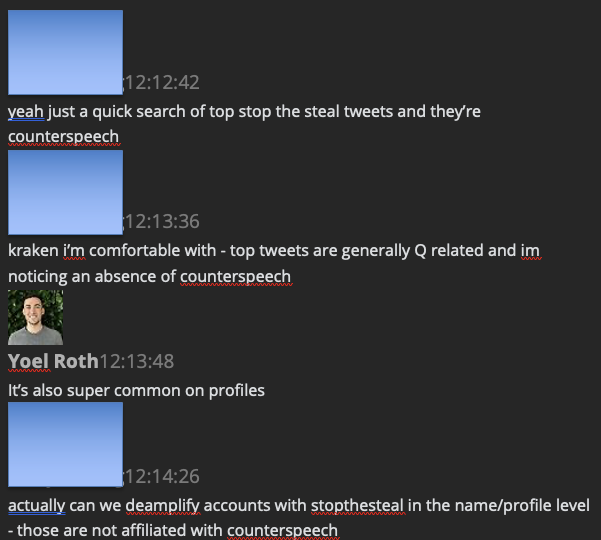 The Twitter Files 4 thus shows the groupthink that infests Woke managers who take control of big corporations, especially when a weak CEO has abdicated his core duties.
NOW READ:
Twitter Unleashed 'Vast Array of Tools' on Donald Trump One Week Before Election
"*" indicates required fields
---
OPINION: This article contains commentary which reflects the author's opinion.
---