A self-described Antifa revolutionary who was deeply involved in the January 6 riots has been found guilty of all seven charges against him in a court of law.
After only a few hours of deliberation, the jury convicted John Earle Sullivan, 29, of Utah, commonly known as "Jayden X," of seven charges.
According to court documents, federal prosecutors sought that Sullivan be held in jail until his sentencing, and U.S. District Judge Royce C. Lamberth granted their request.
The charges included felony obstruction of an official procedure and civil disorder.
Sullivan captured one of the most infamous recordings of January 6, depicting Ashli Babbitt's gunshot death, and sold the rights to various media sources, including NBC News.
Sullivan also dressed as a Trump supporter, roamed around Washington D.C. prior to the riots, and then goaded protesters on during the January 6 incident.
"I was only observing," Sullivan said in his trial testimony. "I followed the crowd. I'm there to document."
However, the government claimed that the video was a "ploy" for Sullivan and broadcast video after video of him spurring on the crowd on January 6.
John Earle Sullivan, a radical self-described "revolutionary" who literally founded a group called "Insurgence USA,"  shouted several incendiary statements during the storming of the Capitol building, including "we about to burn this sh*t down."
Sullivan posted a trove of videos on YouTube documenting the J6 riots, but those videos were taken down by the Big Tech platform.
In his video on the Babbitt shooting. Sullivan was heard after Babbitt was shot yelling several times "she's dead!"
KSL asked Sullivan after the incident if he was a part of Antifa, this was his response:
When he was asked if he was a member of Antifa, as he has used the hashtag in his social media posts, he said he understands where there could be confusion.
"If people are saying I'm Antifa, as far as a terrorist organization, I'm not," he said. "Am I anti-fascist? We all are anti-fascist. And that's what we should all strive for being. I have my own organization, Insurgence USA, and that's what it is for. That's really what it is."
It wasn't the first time Sullivan had been at the scene of a capitol building siege.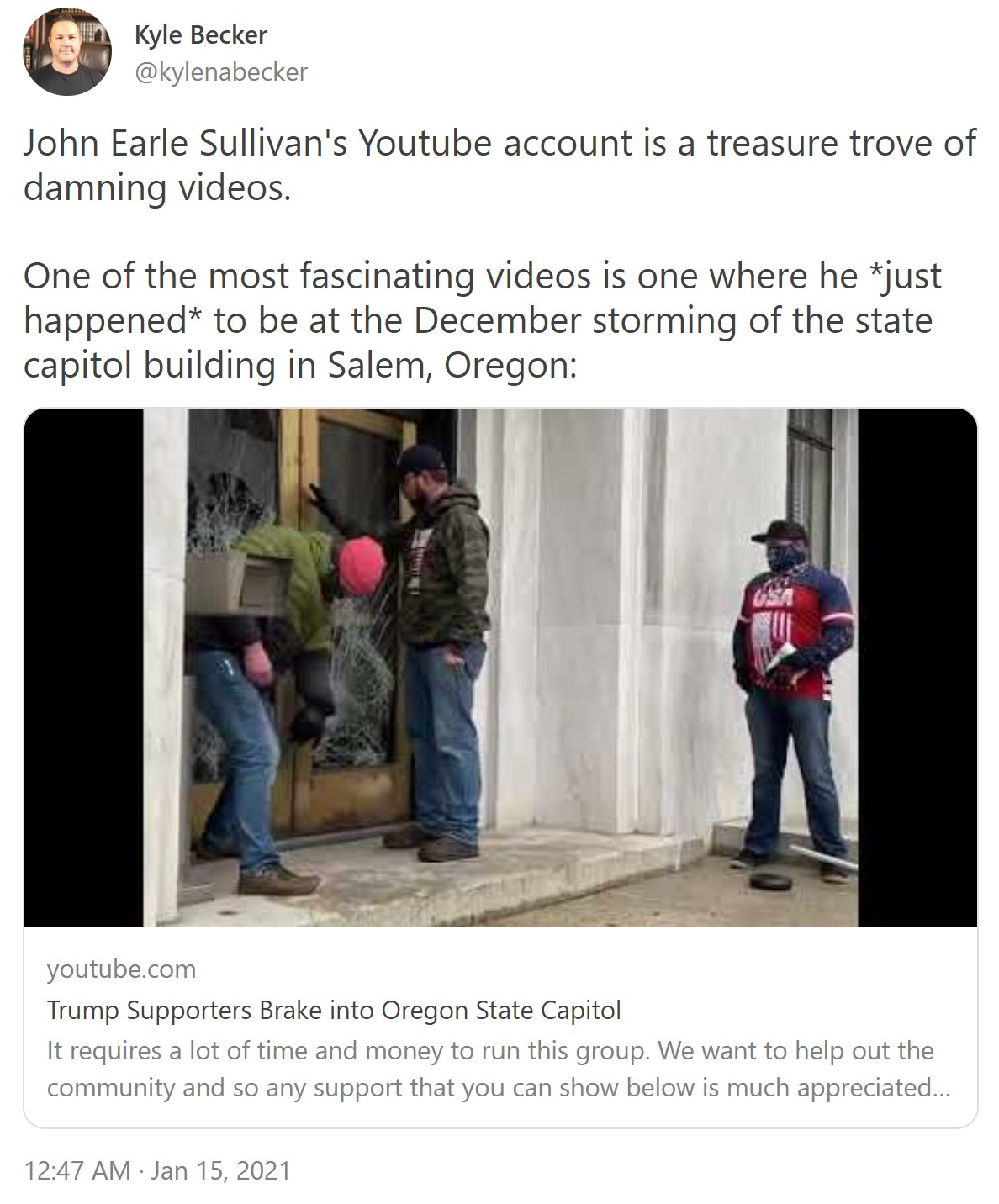 Sullivan was paid thousands of dollars for his explosive footage of the January 6th Capitol riots by three major media companies, despite evidence of him having participated in a criminal act.
The media has gone beyond refusing to ask critical questions about Sullivan, due to his irrefutable associations with the radical left.
This would be very problematic for the Official Narrative™ that thousands of "domestic terrorist" Trump supporters had gathered to pull off a supposed "coup."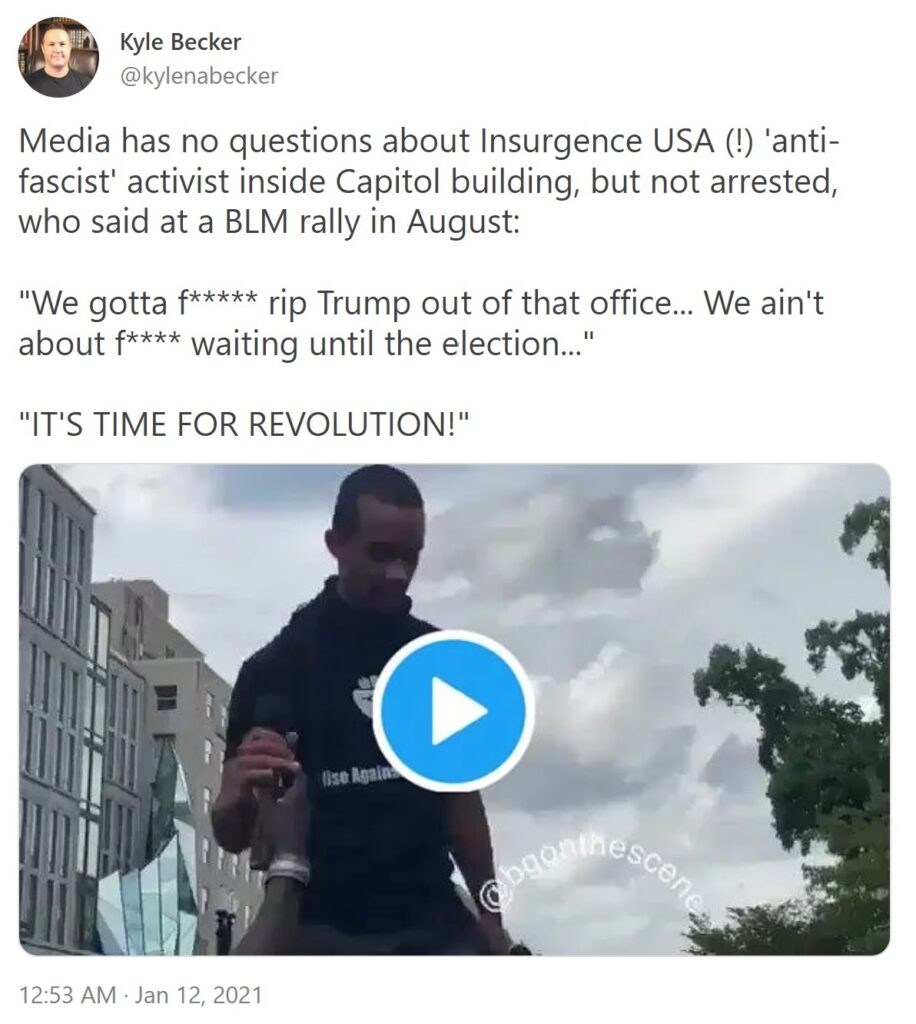 Sullivan's verified social media accounts for Insurgence USA, as well as Jaydenx, also posted messages that strongly suggest that he wanted to participate in the capitol riots as far back as December 28th. Sullivan even used hashtag #Antifa.
Sullivan even used the highly suggestive phrase "storm the capitol" to advertise the January 6 riots to extremists.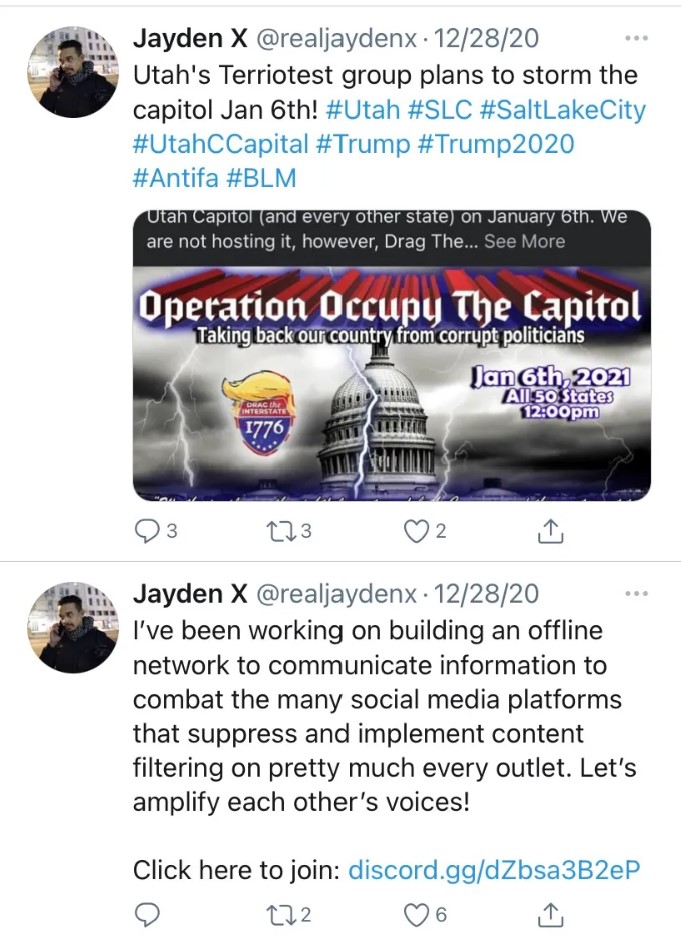 The flyer said, "Operation Occupy the Capitol." He added, "Utah's Terriotest group plans to storm the capitol Jan 6th!"
BakedAlaska told investigative journalist Lara Logan that this was the exact phrase that Ray Epps said to him on the night prior to Jan. 6: 'Storm the Capitol."
Why was Ray Epps treated as victim by the same people who condemned almost everyone around him as a threat?

We try to answer some lingering questions about the one "election-denying-Donald Trump-supporter" the media and the government didn't seem to hate. pic.twitter.com/1u5dXtSGLv

— Truth In Media (@Truth_InMedia) November 3, 2023
There has been recent controversy over FBI advanced knowledge and potential complicity — through professional negligence or otherwise — regarding the January 6 riots.
"Your day is coming, Mr. Wray."

You can sense the PANIC on Capitol Hill as Clay Higgins goes SCORCHED EARTH on the FBI at a hearing.

The GOP Rep. presses Wray about reports of 'ghost buses' filled with 'FBI informants dressed as Trump supporters and deployed into our capitol on… pic.twitter.com/pwJHDuHiT1

— Kyle Becker (@kylenabecker) November 15, 2023
On Wednesday, Rep. Clay Higgins confronted FBI Director Wray over reports of 'ghost buses' being brought in full of purported Trump supporters.
Higgins' accusation conjured back up scattered reports that Antifa radicals had penetrated the January 6 protests and acted as agents provocateurs.
In March 2021, FBI Director Christopher Wray denied that that there was any evidence of Antifa involvement in January 6.
John Earle Sullivan's conviction, however, does not comport with the FBI director's narrative.
NOW READ:
GOP-Led State Rejects Bill Requiring Reporting on Critical Race Theory and DEI Programs in Schools